Sarah qualified as a Solicitor in 1996 and has over 20 years' experience in property law, primarily as a Residential and Mixed Use Urban Regeneration Property Lawyer.
She has acted for some of the biggest players in the property development field including Urban Splash Ltd, Persimmon Homes, Argent Plc, Taylor Wimpey, Artisan Holdings Plc, Crosby Homes Ltd and Seddon Homes Ltd.
She has also acted for some of the largest Panel Managers of conveyancing and remortgage work in the UK and has successfully grown teams of Lawyers since 2003.
She wrote her first 'process map' for her work way back in 1997 and sealed her place as an industry thought leader when she co-authored 'Flat Schemes in Residential and Mixed-Use Developments', 3rd Edition, a specialist reference source on the sale and purchase of flats in England and Wales, written with emphasis on drafting and streamlining new build legal documentation and processes.
She is also a contributing author to 'Doing Business after Brexit: A Practical Guide to the Legal Changes' by Helen Tse.
Sarah's talent is that she can see where the inefficiencies in teams and departments are and helps remove them so that her clients can do what they do best: grow their client base and market share so they can increase profits. Her approach is always to help coach individuals and teams to achieve their full potential.
Her obsession and the reason she co-founded The CS Partnership is to help positively change the way that legal services are delivered.
Certifications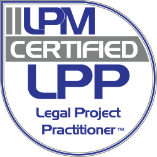 What people have said about me
"Sarah is the only person I have come across in the last 10 years who understands legal process implementation, and more importantly, actually DOES it." - Peter Ambrose, Managing Director, The Partnership.